Vehicle tracking costs can range between £5 and £25 a month. When comparing vehicle tracker prices, you need to:
Look beyond the monthly rates or upfront costs
Look at any hidden fees, these can add up and make one option far more expensive than it originally seems
What the price includes (e.g. installation, features you need easy-to-use software, customer support, etc.)
This article will address all of this and Vimcar's live vehicle tracking, Fleet Geo, that could work for your business.
FAQs On Vehicle Trackers Prices & Costs
Below are some of the most commonly asked questions about live vehicle tracker prices. Click on questions to jump to the answers:
FAQs On Vimcar's Live Tracking Costs
Vimcar's live vehicle tracking, Fleet Geo, offers award-winning quality at a low price. With Vimcar there are no hidden fees, the hardware is easy to install and the software is simple to use.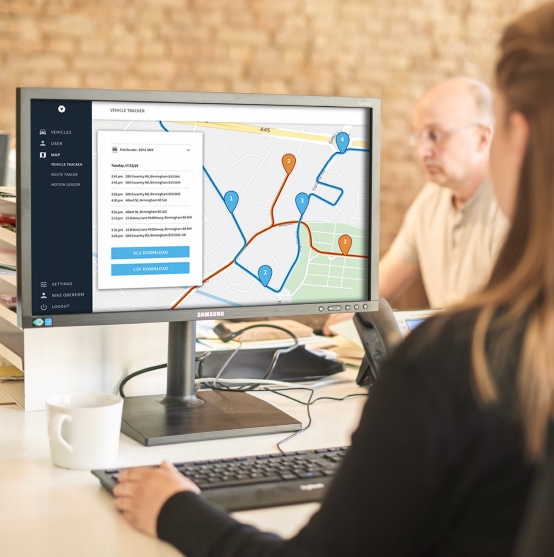 Get a Beginners Guide to Live Vehicle Trackers in 2021
The average vehicle tracker price: How much is a car tracker in the UK?
In the UK, professional vehicle trackers costs range between £5 and £25, and sometimes even more. The vehicle trackers costs differ due to the different features of each tracking software.
When deciding on which vehicle trackers prices to pick, always consider your business's type and features.
Vimcar's vehicle trackers prices start at £7.90, for instance. We offer flexible price plans, no hidden costs and an all-inclusive package for that price – which is pretty rare in the vehicle tracking the market.
You can find out more about Vimcar's vehicle tracking price here.
Which is the best between a one-time fee and price plans?
Buying your vehicle tracker with a one-time cost always come with a lot of extra fees. They:
Do not come with customer service, so you are always on your own
Tend to come with a higher, up front fee
Often come with various hidden costs (like a high fee just to install or ship your hardware)
Have very limitted (if not poor) software without a mobile app
Do not usually have any guarantees or warantees if something goes wrong or offer free hardware replacement
If you are interested in vehicle tracking but do not fully want to commit yet, you can always sign up for a monthly rolling contract (which you can cancel any month). This option is very tricky to find, but Vimcar does offer such packages. You can find out more here.
Vimcar's Fleet Geo provides flexible and suitable vehicle trackers costs. Our vehicle trackers prices fall within three plans:
Monthly service plan
24-month service plan
12-month service plan
Our monthly and yearly vehicle trackers prices packages come with:
Free hardware replacement
Free shipping
Guaranteed 30-day money payback
Jump to: Vimcar's Vehicle Tracking Prices & Product PDF
In the long run, it is almost always cheaper to go with a subscription – no matter the vehicle tracking price.
How do I know which vehicle trackers prices are reasonable?
When shopping for a tracker, it is advisable to compare different vehicle trackers prices from different vendors.
Ask for full disclosure of the vehicle trackers costs to identify any hidden costs such as installation fee, customer service, and the package content. These hidden costs tend to increase the overall vehicle trackers costs. At Vimcar, we have zero hidden vehicle trackers prices, and our hardware is easy to fit without an additional fee.
The vehicle trackers' cost should depend on the number of trackers you are buying. Additionally, the vehicle trackers costs vary based on the features of the software.
If you want a straightforward tracker, but the vehicle tracking price is high and the feature set overly complicated, it is better to go for vehicle tracking with a lower cost that only includes features you will use.
Read More: How Is Tracking Software Defined?
Which vehicle tracker has a lower costs: a dongle or a fitted tracker
Dongle trackers tend to be more expensive compared to fitted trackers.
Our Vimcar Dongle is quicker to insert. The tracker is inserted on your vehicle's OBD interface on the top right of your vehicle's footwell.
That said, a fitted vehicle tracking (which is wired onto your car's battery) is well-hidden and tamperproof – it is, therefore, better for theft protection.
At Vimcar, however, our customers can choose the type of tracker, and both types of tracker have the same price. You can find out more with our product PDF.
Read More: Find Out How Easy It Is To Install Vimcar Hardware
Do vehicle trackers prices vary depending on your location in the UK?
In the UK, the vehicle trackers costs usually vary depending on your location. The variation of the vehicle trackers costs can be attributed to the different legal guidelines and other factors.
But we have good news for our customers. At Vimcar, our vehicle trackers prices are constants regardless of our location.
Our vehicle trackers costs have been harmonised to favour all our customers in the UK. Price harmonisation makes our vehicle trackers prices best in the region.
Vimcar has revolutionised fleet management systems in the world. We provide straightforward and reliable fleet management services. Our vehicle trackers prices are also pocket-friendly.
→ Why not download our brochure to find out more!
Conclusion: How Much Is A Car Tracker In The UK
When asking "How much is a car tracker?" or "What is the cost of vehicle trackers" you need to take into account:
The upfront costs
The hidden costs
What is included in the cost
How much return on your investment will you get
If you choose carefully and go beyond the simple question of "How much is a car tracker?", then the amount of money you save on vehicle tracking can far outweigh any vehicle tracking costs.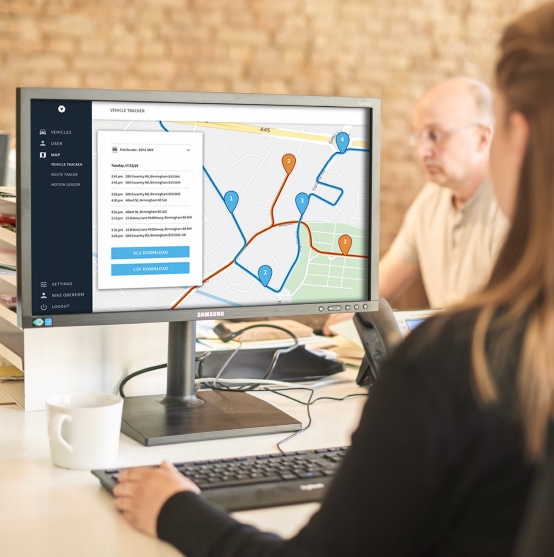 Get a Beginners Guide to Live Vehicle Trackers in 2021
Questions on Vimcar's vehicle tracker prices, answered
What is included in the cost Vimcar's of Live Vehicle Trackers?
The cost of our vehicle live tracking system includes the following:
No hidden fees
Free shipping
Free, self-installation (that can be done in minutes)
Free hardware and hardware replacement if it is lost or stolen
A dedicated customer agent that is available to help every business day of the week
The software
Unlimitted

Customer service

A mobile app
Data protection
Self-installation
30-day money back guarantee
→ We offer flexible price plans to ensure that our vehicle tracking prices suit all customer needs.
With Vimcar, you will be able to:
Jump to: Vimcar's Vehicle Tracking Prices & Product PDF
What type of hardware is included in vehicle tracking costs?
Vimcar offers two types of hardware:
The Vimcar Dongle can be plugged into the OBD interface of your vehicle. It is perfect for swapping and changing vehicles
The Vimcar Fitted Box can be onto a vehicle's battery. It is best for users looking for a hidden, tamperproof vehicle tracker. It is also better suited to vehicles without an OBD interface, such as lorries.
Find out more here.
Vimcar's vehicle tracking costs: How much is a car tracker from Vimcar?
We offer 12- or 24-month service plans in addition to a month-by-month plan. The vehicle tracking costs for each service plan are as follows:
Monthly service plan: £11.90 per vehicle / monthly (plus VAT) 
12-month service plan: £9.90 per vehicle / monthly (plus VAT)
24-month service plan: £7.90 per vehicle / monthly (plus VAT)
What are the additional vehicle tracking costs for installation?
Fleet Geo's hardware can be self-installed in mere minutes. There are no installation fees and no trip to the garage is necessary.
If you have any questions about installing your Fleet Geo hardware, our customer service team is ready to assist you.
Does the vehicle tracking mobile app cost extra?
No, the mobile app is included in the monthly price. The app is simple to use and makes it easy to manage your fleet from anywhere.
Does a call with customer service cost extra?
No, you can call or email our customer service team with any questions you might have at no extra cost to you. Additionally, you'll have a specialised Customer Success Agent assigned to you who will offer personal support through brochures and videos.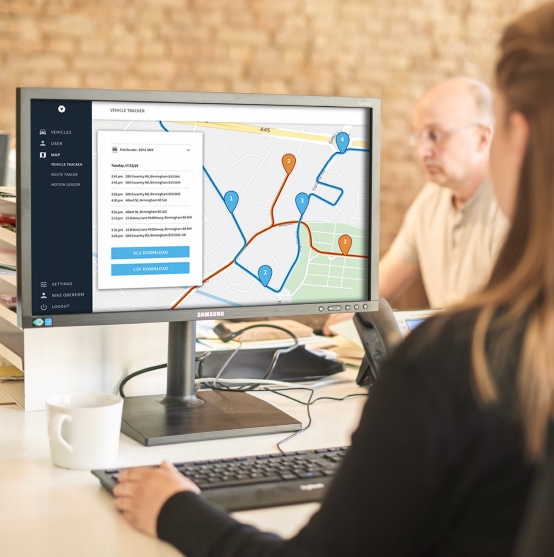 Get a Beginners Guide to Live Vehicle Trackers in 2021
3 Ways The Right System Can Reduce Vehicle Tracking Costs
Choose the right system for your organisation's needs, and you can minimise vehicle tracking costs in a number of ways.
1. Reduced mileage
A system such as Vimcar's Fleet Geo can reduce mileage and, therefore, fuel consumption. The system records routes and usage. This allows you to identify shorter or more efficient routes for your drivers to take. You can also use the data to optimise loads, improve driver performance and keep track of your fleet's movements. And all of these processes combine to minimise vehicle tracking costs.
2. Save time
Managing a fleet's performance is a time-consuming process that takes management away from what's really important — growing the business. Using a system such as Vimcar's Fleet Geo allows you to automate a lot of the administrative tasks involved.
Recording mileage logs, tracking fuel consumption, route optimisation and monitoring drivers is all done in the background. The time saved slashes vehicle tracking costs and frees you and your team up for more important tasks.
3. Protect the environment
If you run a large fleet, you're probably concerned about your organisation's carbon footprint. But when you have fleet tracking software in place, you can use GPS technology to cut mileage and, therefore, emissions. Fleet Geo allows you to respond to vehicle misuse, slash route distances and improve overall efficiency. This type of system not only reduces your carbon footprint, it also reduces vehicle tracking costs.
Why vehicle tracking costs are worth it
Monitoring Fuel Consumption
One of the biggest costs that fleet operators need to consider is fuel. Although vehicle tracking prices can seem daunting in the short term, they're a relatively small investment when you consider how effective vehicle trackers are at keeping tabs on fuel usage.
Many businesses still rely on traditional methods for monitoring fuel usage, such as recording journeys on paper and comparing these records against expense receipts. Carrying out these in-depth checks manually costs time and money that can be better spent elsewhere in your operation. What's more, manually monitoring fuel consumption can lead to discrepancies caused by clerical errors.
Initial vehicle tracking costs are quickly outweighed by the benefits of automated fuel consumption checks. By doing away with manual paperwork, you can say goodbye to costly miscalculations. There's also no scope for deliberate tampering of mileage reports.
Combating Misuse Of Company Vehicles
Vehicle misuse is another issue facing many businesses. If your drivers aren't required to return cars and vans to a depot at the end of a shift, there's always the chance they might be tempted to use company vehicles for their own use outside of working hours. Vehicle misuse outside of company hours doesn't just contribute to overall fuel and running costs, it also has insurance implications. Vehicle tracking prices are a reasonable investment when you consider the cost-saving benefits to your company.
If you're looking to tackle van misuse, vehicle tracking costs are easy to justify. The best vehicle tracking solutions use reliable geofencing to alert you when company vehicles are used outside of set working hours. They can also be used to determine when a vehicle has been driven outside of a predetermined area.
Read more: GPS tracking laws UK
Eliminating Poor Driving Practices
Vehicle tracking costs are also well worth the outgoing if you're looking to eradicate poor driving practices from your operation. Reliable GPS trackers will monitor a full range of metrics, including speeding, acceleration and idling behaviour. Vehicle tracking prices will also cover automatic scorecard reporting that can be used to quickly identify problem drivers within your fleet.
Forking out for vehicle tracking costs not only promotes better driving behaviour but also reduces all the issues associated with it. Even the most affordable vehicle tracking prices can result in improved driver efficiency and reduced wear and tear on vehicles.
When justifying vehicle tracking prices, it's also worth bearing in mind how effective driving style analysis is at preventing accidents on the road. The benefits of this are particularly obvious for larger fleets. Fewer accidents during day-to-day operation will result in significantly lower insurance premiums, making vehicle tracking costs a far easier pill to swallow.
More Efficient Operations And Improved Customer Service
Budgeting for vehicle tracking costs can also lead to considerably more efficient operations. Installing vehicle trackers will allow you to instantly identify the location of every asset within your fleet. This is particularly handy when it comes to managing routes.
Businesses looking to maintain a competitive edge should also think seriously about the long-term returns of vehicle tracking prices. By being able to manage fleet operations in real-time, you'll be able to instantly revise estimated time of arrivals for your deliveries, ensuring stellar customer satisfaction remains at the forefront of your service offering.
Minimise Vehicle Tracking Costs With A ROI Calculator
Vehicle tracking live is a great way to ensure your business fleet is running efficiently. The ability to track business cars, vans and lorries in real-time helps you to manage employee productivity and safety.
But it's important to continually monitor and minimise vehicle live tracking costs. After all, if you're paying more for the hardware and software than you're saving in costs, the entire endeavor becomes pointless.
To accurately compare vehicle tracking costs, make sure you're not simply relying on the monthly fee. There are often lots of hidden costs outlined in the small print. If you choose the wrong system, your vehicle tracking costs might spiral out of control very quickly.
Read more: Affordable Car Trackers — Quality At An Affordable Price
How Does An ROI Calculator Reduce Vehicle Tracking Costs?
Weighing up the merits of potential benefits of a business investment involves assessing the return on investment (ROI). But it's difficult to assess this type of fleet tracking software without buying and implementing it. But thanks to Vimcar's ROI calculator, you can get a handle on the potential vehicle tracking costs — and the savings you can make — before you buy.
Vimcar's Fleet Geo system can help you to cut your business's vehicle tracking costs. But we don't expect you to take our word for it. Our ROI calculator is easy to use, and it can give you a rough idea of how much you can save in just a minute.
Start by selecting the number of fleet cars you're responsible for. Then, enter the number of miles you average vehicle covers in a year. Finally, enter the number of hours you and your team spends managing your fleet every week. Once you've entered a few details, the calculator will show you how much Fleet Geo can save your organisation.
Vehicle tracking costs can impinge on the profitability of your business. But choosing the right fleet tracking system can help you to fully minimise those costs.
Discover: how you should go about fleet optimisation
Vehicle Tracking Costs: Are You Ready to Invest?
Now that you're better informed about what vehicle tracking costs, you're ready to take the next step. Get in contact with a Vimcar sale's representative to discuss the price of Vimcar's Fleet Geo and learn how vehicle tracking will save you time and money.
---