There are many schemes for how a company structures their fleet. These differences can affect taxes and regulations. But regardless of the fleet setup, it is important to understand what a fleet car is and differences between the available types of fleet cars.
Recently businesses are having to face a new reality for what defines a work environment. The result is a need to pay closer attention to the structures of their fleets and how it affects business expenses. This piece will look at the different types of fleet cars and how companies can better manage business travel, considering the changing meaning of the term.
What Is A Fleet Car?
A fleet car is:
A vehicle that belongs to larger a group of vehicles (called a fleet).
Leased or purchased by a company for their own commercial purposed.
Different types of fleet cars
In the corporate world, companies can choose from three different fleet cars, including:
1. Company Car
A company car is owned or leased by an employer for the use of a single employee. The employee assigned the company car can use the vehicle for personal and business purposes. They are responsible for recording business and personal mileage for legal and tax reasons.
With a company car the business will maintain and fuel the car for business-related use. This puts the company in control of their fuel costs. The vehicle makes the employee's work easier and helps portray the organisation as a good place of work.
2. Pool Car
Unlike a company car, the pool car is available to different employees. Pool cars are used by different employees for diverse business-related needs. These vehicles are essential tools and attract lower taxation. It is important to classify company cars and pool cars properly to avoid stiff legal and financial penalties.
Read more: What is a fleet pool car?
3. Grey Fleet
If a company uses a grey fleet, its employees use their personal or hired cars for business travel. If employees purchased the vehicles under company-sponsored ownership schemes or claim cash-back allowances or fuel expenses, the cars are considered a grey fleet. This type of arrangement is ideal for organisations with low mileage where maintaining a fleet will be too expensive.
Many companies will have to depend on grey fleets for their employee business travel needs because of the peculiarities of remote work. So long as employers comply with industry and legal regulations, a grey fleet is an effective way to increase business operations and lower running costs.
Read more: Is a grey fleet right for your business?
Infographic: Pool cars v.s. company cars
The Changing Definition "What is a Fleet Car" & Business Travel
A recent Fleet News article raised concerns about how more companies are embracing work from home policies and the effect on the use of fleet cars. According to a BT Skills for Tomorrow and Small Business Britain survey, 37% of SMEs in the UK expect their employees to continue working from home and want to reduce face-to-face contact in their business operations.
This has the potential of making almost every home-based employee's vehicle trips business-related. Placing the responsibility for road safety and expenses on the employer.
For companies that depend on a grey fleet, a large proportion of home-based employees can create financial challenges. Because employees do most of their work from home, they can classify any work-related trips as a business journey. Employers who rely on grey fleets need to ensure their employees only use safe and fit-for-purpose vehicles to complete business travels.
Considering the legal, financial and ethical implications for employers, it is important for fleet managers to identify the potential issues that could arise over the mass adoption of work from home policies.
Doing this will allow management to create proactive measures such as the use of fleet management software with vehicle tracking capabilities. It will also help managers reposition their organisations to leverage home-based employees for improved operational efficiency.
There is a lot to consider when structuring a company fleet scheme. Times are changing and while some are driving less, many more companies are looking to invest more into their fleets. Adopting innovative fleet management solutions can help companies get the best out of their fleets.
Benefits of Tracking Fleet Cars
Tracking is important for fleet cars, more so for Electric Vehicles. The latter are more expensive than their gasoline-powered siblings and require top-tier safety. You don't want to spend on a costly Tesla and get it stolen, do you?
Theft Prevention
Fleet tracking helps curb theft by monitoring the vehicle's location in real time. You can recover a fleet car if anyone steals it. All you need do is share the location with the police.
Enhance Safety
GPS tracking also enhances employee safety. Drivers can reach out to dispatchers for help in dangerous situations. And the dispatcher can send help quickly, knowing the driver's location.
From the above points, you've likely got reasons to buy an electric vehicle as your next fleet car. However, ensure you use the services of a reliable fleet tracking company like Vimcar so you can get optimum value from the electric car.
Improve Efficiency & Fleet Cars
Tracking electric fleet cars ensures they are used efficiently. A GPS tracker can reveal if a vehicle is in use or not and for what purpose. That way, you can keep employees accountable and ensure they use these vehicles properly.
Read more: What Is A Commercial Vehicle?
The Rising Trend of Electric Vehicles (EVs) as Fleet Cars
EVs are changing everything about the automotive world, including the composition of company fleets. Forced to meet sustainability guidelines, companies have adopted EVs to cut back on their carbon footprint.
Are you thinking of adding EVs to your fleet? Here are some thoughts to guide you along the way.
Should I Buy An EV Fleet Car?
There are reasons to buy an EV — and reasons you should not. We'll start with the latter, the first of which is that EVs are expensive. Yes, government subsidies are making EVs cheaper; still, an electric car costs more than a gas-powered model.
Also, EVs have range problems. While batteries have improved, they still require frequent recharging for decent mileage. This can discourage businesses that have employees that have to make long business trips.
Even with all these, an EV can be a beneficial addition to your fleet. An EV has less moving parts than a gasoline car and faces less wear-and-tear. This decreases maintenance costs and reduces fleet running costs.
Electric fleet cars attract incentives and benefits, especially from the government. For example, EV owners pay lesser benefit-in-kind charges. That, combined with zero fuel costs, makes EVs more affordable to own in the long run.
How to Choose the Best Fleet Vehicles for your Business
Do you have a company and maybe need to add a vehicle to your fleet of cars to make the travels in and out of the company more comfortable? Nowadays, most companies have invested in all sort of vehicles to ease movement of goods or employes especially when attending to business duties. However, for a company to buy a particular fleet vehicle, they need to consider crucial factors to ensure that the car serves its purpose for the company. Some of these considerations include:
Journey types and fuel
You must consider the type of journeys or trips the fleet vehicle will make before you purchase one. Consider things like the length of the trips, the conditions of the roads and the frequency of the vehicle usage. This will help you determine the best engine size and fuel type. If the car is expected to go for long journeys, the long-distance shipping companies should opt for diesel-powered vehicles due to their high fuel economy. For short trips, you can consider buying a petrol engine fleet vehicle for more savings.
Read more: live fleet GPS tracking
Safety features
Most auto manufactures make cars with safety features such as seat belt pre-tensioners, airbags and head restraints. When you want to buy a fleet vehicle, it is necessary to look at the Euro NCAP and their safety ratings for new cars. Insist in buying a fleet vehicle with excellent Euro ENCAP safety ratings. It is recommended that you consider a fleet vehicle with add-ons like lane departure warnings, intellectual cruise control automatic breaking, and electronic stability programs for safer driving.
Vehicle emissions
When driving a car, carbon dioxide is emitted, which is not environmentally friendly. Vehicles that emit a lot of CO2 are charged a higher Benefit-In-Kind (BIK) tax. Companies are advised to consider the number of emissions that a fleet vehicle produces before purchasing them. Vehicles with low emission are charged less BIK tax, and they are recommended for most companies. Those with higher emissions are charged higher BIK. This is usually done to discourage users from using a fleet vehicle with higher emissions and protect the environment.
Number of fleet vehicles needed
After doing your research and coming up with the most preferred fleet vehicle that suits your business needs, you must decide the quantities to procure. Most companies buy cars after three to four years to replace the older ones. When buying a fleet vehicle, you should keep your business future in mind. Sometimes you will need to buy more cars to suit the growing number of your employees. Besides, it would be best if you considered the delivery timelines to place your orders at the right time.
FAQs on fleet cars
Fleet cars have become more of use in the modern-day and have brought a lot of ease to the fleet industry. Read below to see clearly defined steps on how to get a fleet business running; First, you will need to know why you need to buy and if it's a good idea.
Read More: What is A Fleet?
1. Can anyone buy a fleet car?
Yes, anybody can buy fleet cars, as long as one follows the laws, guidelines and specification of the place of purchase as different countries have different laws regarding citizens who own fleet cars.
2. Is it the right idea to buy fleet cars?
Well yes, this is an ideal option as fleet cars are used to run various business that involves the use of many cars for certain purposes. Here are some of the reasons you need to buy new fleet cars for your business.
These vehicles have high mileage; hence they can be used by multiple drivers every single day.
If your option is to sell or trade in a fleet industry vehicle, then there is a higher resale value than a privately used version of the same model. It is advantageous since some lenders do not finance a fleet vehicle.
There is elegant maintenance since these fleet cars follow a maintenance schedule that maintains their longevity.
Read More: Learn More About How To Track Your Fleet
3. Is it fine to buy used fleet cars?
As much as you may want to buy used cars, their disadvantages outweigh their advantages. Used cars only depreciate in value, and the disadvantages are not that reliable since they contain a share at a time where they will wear and tear as considered to a brand new vehicle which would have lasted for a long period, as well as these used fleet vehicles cost less hence it also costs less to insure. After deciding whether to buy used fleet cars:
4. How do you buy fleet cars?
Just by the mention of purchase, you may start thinking of the hard process, which is tedious and will cost you time, but it is worth giving a detailed layout process on how you can purchase fleet cars without wasting time. Here are the following steps: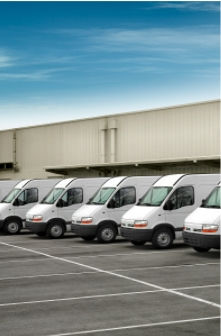 Choose the company, site, or organization you will buy the vehicles from and you must identify if it is a legit site to avoid fraud risks.
Do not be intimidated by the prices but pick the right vehicle which suits your preference but still can get cheaper but not underpowered or too small for the job.
Please apply for a fleet number. Most offer 15 vehicles when there is a one-time purchase, but different companies range from their different unifications.
Prefer to use the invoice, not a sticker to prevent cases such as paying too much, depending on the markup even if there is a larger discount.
Read More: Learn More About Fleet Insurance
5. Should you purchase or lease a car?
It is advisable to purchase vehicles since leasing contains a lower monthly payment than purchasing fleet cars where one can preserve capital.