Many business owners and fleet managers find themselves struggling to manage their vehicles. Most of the time they haven't heard of telematics, or just don't know how it can help. Telematics is a fleet management solution technology that leverages the capacity of telecommunications and informatics to transmit data over long distances. As such, it allows you to access real-time data on your vehicles, thus making fleet management a lot easier.
How Does Telematics Work?
The first step in enjoying the benefits of telematics is having vehicle OBD tracking devices installed in your vehicles. These devices send, receive, and store the data collected. To collect data, these devices are linked to your vehicle via CAN-BUS port with a SIM card or the vehicle's onboard diagnostics (OSBII). The data is then transmitted through a wireless network with the help of an onboard modem.
With the device, you will access a wide range of data on your vehicles, including GPS information. The device then transmits this information to a central server via General Packet Radio Service (GPRS), satellite communication, cellular networks, or via 4G mobile data.
Fleet Telematics UK Devices: Tracking For Fleet Managers
Thanks to GPS technology, fleet telematics devices can address arguably the biggest worry fleet managers have; the location of the vehicle. You will be able to see the exact location of each vehicle as well as know the travelling speed within points of interest.
Once all this data is collected and transmitted to the central server, fleet managers can access it via fleet management software which translates the data into easy-to-interpret visualisations.
Get a Beginners Guide to Fleet Telematics UK & Tracking:
Benefits of Fleet Telematics Devices
The data afforded by telematics offers fleet managers and organisations benefits such as:
Reduces Maintenance Costs
Though vehicle damage is inevitable, you can significantly reduce the extent of damage and downtime with telematics. This is because the real-time data you access will enable you to monitor vehicle usage and get vehicles in for check ups accordingly. As such, the cost of repairs will be lower, and the time vehicles are out of operation will be reduced.
This, in turn, reduces the risk of disruptions in delivery schedules or delays.
Keeps Fuel Costs Low
Fuel is arguably the main expense involved in running a fleet of vehicles. In many cases, fuel costs are higher than necessary due to inefficient route planning, engine idling, unauthorised use of the vehicles, and job site bottlenecks.
Telematics helps keep fuel consumption at a minimum as you will be able to plan efficient routes as well as monitor other aspects of the vehicle's use and performance.
Want advice on how to better manage your fleet? Our fleet experts can give you a free consultation!
Facilitates Communication
Fleet managers must be in touch with drivers and operators. However, it is often challenging, and it takes the drivers' focus from their primary objective; ensuring deliveries are made on time. Telematics not only makes it easier for operators to communicate with fleet managers, but it also reduces the need for human operators to relay information.
Therefore, managers can access data as and when it is collected, and drivers can focus on their job.
Safety
Operating a fleet of vehicles comes with the responsibility of keeping drivers, cargo, as well as other motorists and pedestrians safe. Telematics enhances safety as you will be able to monitor vehicle usage and mechanical problems as well as poor driving habits before an accident occurs. Also, with location tracking, it is easier to get emergency assistance to your driver in case something happens.
Fleet Telematics UK Devices: Don't Be Left Behind
Fleet telematics devices offers businesses a wide range of benefits. This is why it is fast rising in popularity. It is estimated that the global market for fleet telematics device services will experience an annual growth rate of 23%, which will culminate in a £60 billion industry by 2025.
Do you think it is time for hassle-free and efficient fleet management? Vimcar is an-easy-to use, efficient, and reliable fleet management software. Reach out to us today for efficient fleet management.
Choosing The Right Fleet Telematics Device
Fleet telematic devices have become the go-to solution for fleet owners who want to manage their vehicles efficiently and maximise returns for their business. Telematic devices allow you to monitor your fleet and ensure that your vehicles are safely driven and secure from theft and damages. Not only will you have peace of mind and focus on running your business, but you can use this information to negotiate your premiums and cut on other costs. Fleet telematics devices also empower you by providing accurate information on fuel and maintenance costs, giving you room to forecast and manage your fleet efficiently.
To enjoy all the above and many other benefits, you need to choose the right fleet telematics device for your business. The following are some of the criteria to consider when searching for different telematics solutions: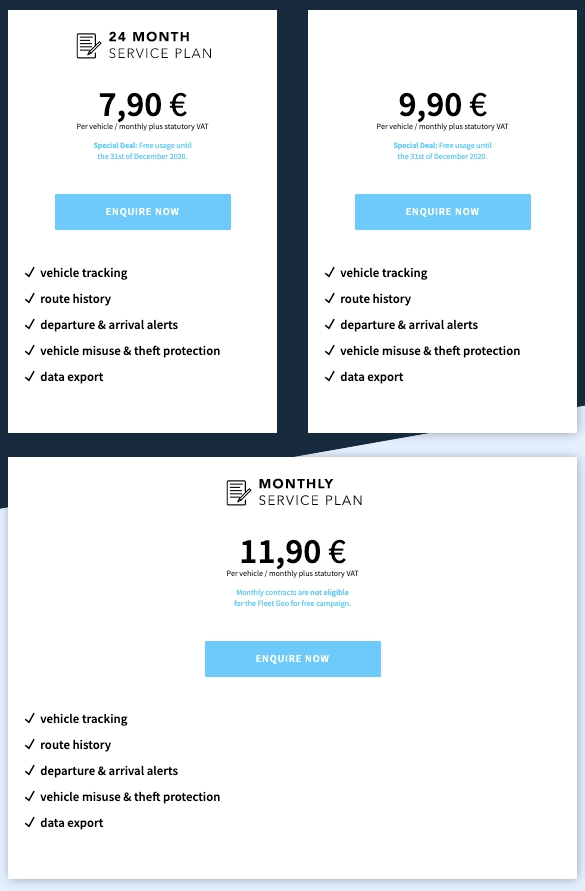 1. The Price Of The Telematics Device Solution in the UK
How much is a car tracker or telematics device? You have to consider how much the device you are looking to install will cost. This calls for comparison of different service providers and the pricing options available. Often, you will get pricing packages that cover the cost of the device, data and software. Some companies charge separate fees for data, device replacement and customer support fees. You should look out for a company that offers telematics solutions that address your fleet needs at the right price, without any hidden costs.
2. The Installation Process
There are devices that can be self-installed and only require you to follow instructions from your service provider. On the other hand, some black box devices will need an expert hand to install. Professional installations can cost you time and money, especially if you have a large fleet. You want a fleet telematics device that is easy to install and use.
3. Customer Care Support
It is essential to choose a telematics solutions service provider who guarantees customer support every business day of the week. This will come in handy in case you encounter any problem with your device. The best service providers assign you specific agents to handle your fleet account.
4. GPS Data Provided By The Device
Data is one of the main benefits of purchasing fleet telematics solutions. Some devices will provide basic GPS data that mostly covers the location of your fleet and specific times that the cars were used. While this is useful, you might want to consider fleet telematics devices that give more in-depth information such as the performance and overall health of your vehicles. Additionally, you must choose solutions that offer strong data coverage and storage so that you do not lose information in areas with poor connectivity.
At Vimcar, we understand your telematics needs and offer two easy-to-install and reliable telematics devices for fleet owners. The Vimcar dongle and Vimcar box take minimal effort and time to install. The dongle simply requires you to plug in the OBD2 connector into your car's OBD interface and you are good to go. On the other hand, the Vimcar Box is attached onto the battery and is more suitable for fleet owners who want a discreet tracker or whose vehicles lack the OBD port. If you have a fleet of electric vehicles, the Vimcar Box is your best bet. If you choose either of our self-install and reliable fleet telematics devices, you are guaranteed flexible payment plans, access to comprehensive information and a dedicated Customer Success Agent at your service.
Read more: What are Telematics?
Want to save money on your fleet?
clear
---
Vimcar Brochure
You may also like these other glossary terms: Telematics, Connected Car and Fleet Tracking