GPS trackers are often mistakenly thought to benefit just the trucking and delivery industries. However, vehicle trackers have proven to be invaluable for a number of sectors, especially the construction industry. Vehicles and machinary don't need to be on the road for hours at time to benefit from GPS technology. Digger trackers and excavator trackers are a worthwhile investment for any construction company. 
This article will discuss the five key ways the construction sector can benefit from using vehicle tracking systems. 
Why the Construction Sector Needs Digger Trackers 
Construction contributes nearly £90 billion to the UK economy, which accounts for about 7% of the annual GDP. Alarmingly, there's been a surge in construction site theft since the first Coronavirus lockdown, and it's easy to understand why. Excavators, dump trucks, cranes and backhoes are all valuable pieces of equipment, making them the perfect targets for thieves. 
Construction site theft can have major repercussions. If even one vehicle is stolen from a construction site, the entire project could come to a standstill. Not to mention the thousands of pounds a company would have to pay to purchase a new vehicle.
But the construction sector shouldn't invest in GPS trackers simply for anti-theft reasons. Construction sites can also be dangerous places. If vehicles are being misused, that could be harmful to workers. Because construction companies have vehicles on multiple sites, it can be a headache trying to manage all of the vehicles in a safe and effective manner without GPS vehicle tracking.  
See what our customers have to say about saving time, money and hassle with Vimcar.
5 Key Benefits of Using Digger Trackers
Excavator trackers and other machinery trackers can greatly benefit the construction sector. The following section breaks down the primary reasons construction companies should invest in GPS vehicle tracking for construction vehicles. 
1. Theft Prevention
Construction vehicles are incredibly expensive and may be needed on multiple project sites. If construction vehicle theft is a concern, utilising GPS trackers (like excavator trackers) is a must. Digger trackers let you set custom alerts, called geofences, that notify you if a digger or another vehicle is being used outside of a designated area. If you suspect a theft in progress, the real-time tracking feature of the digger trackers will show you exactly where the vehicle is so you can report its location to the police.  
Read more: What To Do When A Van or Machine Is Stolen
2. Monitor Drivers
Vehicle misuse is another major concern in the construction sector. With digger trackers, you can set alerts, called time fences, to be notified when vehicles are being used outside a specified time frame (such as working hours). With construction vehicle trackers, you can also review routes retrospectively to see if employees are using work vehicles for unsanctioned personal trips.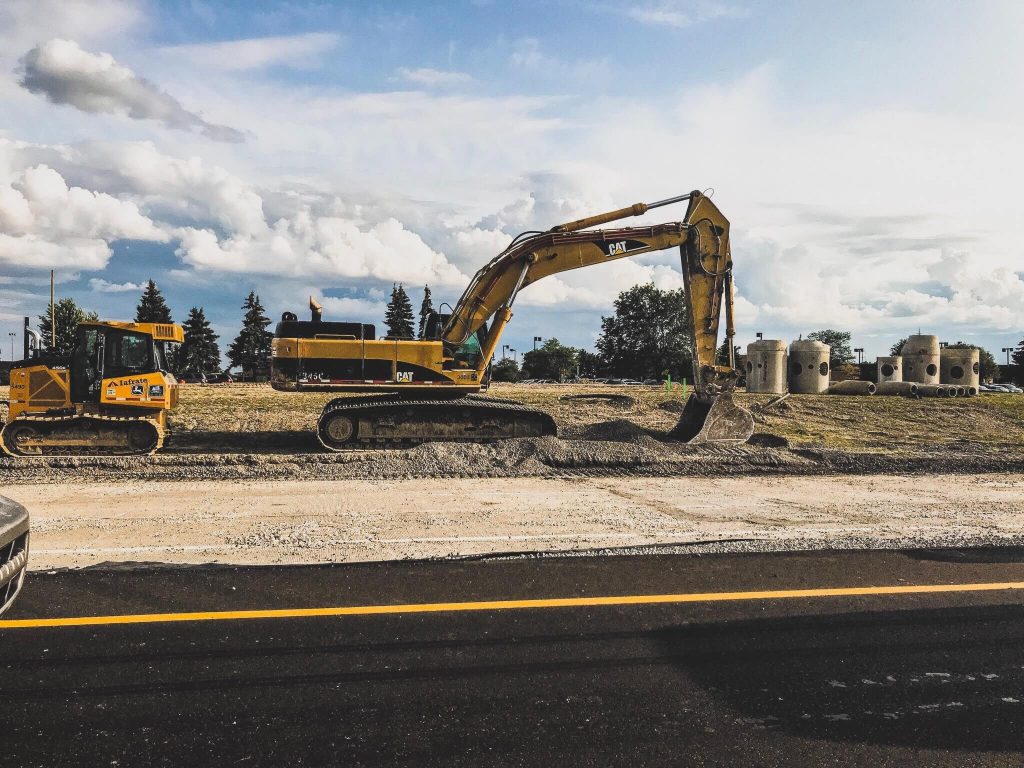 3. Project Management
Managing a fleet of construction vehicles can be extremely difficult since different vehicles are needed on different sites. Excavator trackers show you the real-time location of all your vehicles. This makes it easy to send vehicles from one site to the next without having to call the site manager to confirm the location of each vehicle first. Because of this, projects can be completed more efficiently, easing the already strenuous task of managing a job site.  
4. Vehicle Maintenance
If construction vehicles are not maintained properly, the risk of workplace injury can increase. Excavator trackers and other construction machine trackers automatically log the miles of each vehicle in your fleet. With this information, you can easily schedule routine maintenance checks on each vehicle to ensure that the proper safety precautions are being taken. 
5. Accurate Accounting
Using paper logs to track vehicle usage on construction sites is time consuming and leaves room for human error. Digital digger trackers are a smarter choice since they show you how many miles each vehicle has driven, which project site they were on, when and more. With this data, you can more accurately bill clients and provide them with proof of work, if needed. 
Which Construction Vehicle Tracker Is Right for Me?
GPS vehicle trackers don't just benefit the delivery and trucking sectors. Construction companies can also benefit from vehicle trackers, like excavator and digger trackers. These digger trackers are useful at preventing theft, monitoring vehicle usage, managing projects and more. 
Companies interested in tracking their construction vehicles will love using the Vimcar Box. It's easy to self-install and is suitable for vehicles without an OBD interface. For more information on the Vimcar Box, contact our team of fleet management experts today. 
---
Vimcar Brochure