What does HGV weekly rest mean?
A HGV (heavy goods vehicle) weekly rest is a continuous period in which a driver is required to rest in compliance with regulation. These regulations cover all drivers of heavy goods vehicles, also known as large goods vehicles (LGV) and trailers. Since HGV driving can take long hours, drivers must stick to the rules that govern long-distance driving.
A regular HGV weekly rest period should last at least 45 consecutive hours.
HGV Driving Laws: rules and hours
Operators of Heavy Goods Vehicles (vehicles that weigh more than 3.5 tonnes) are subject to EU driving rules. The principal EU regulations limit the driving hours to a maximum of:
Nine hours a day (it can be extended up to 10 hours twice a week)
56 hours every week
90 hours in a consecutive fortnight
EU driving rules necessitates that all driving must be recorded on a tachograph. A tachograph is a gadget equipped to an automobile to record driving periods, distances, and speed.
Several compulsions on HGV driving breaks are also included in EU rules and regulations. Drivers must:
Get a rest period of at least 11 hours daily – they can shorten this term up to nine hours rest period but only thrice a week.
Have an uninterrupted rest period of 45 hours weekly – they can reduce it to 24 hours every week.
Take break periods of at least 45 minutes after four and a half hours of constant driving.
Get a Free Guide to HGV Driving Breaks
What is the significance of these HGV laws?
Heavy goods vehicles tend to be more involved in fatal crashes due to their high mass. This, in turn, spells dire consequences for other drivers on the road. HGV Driving Hours and HGV driving breaks are strictly regulated, and the EU's mandatory regulations have been supported as part of crash avoidance measures. These HGV laws play an essential role in:
Speed limitation
In England and Wales, commercial vehicles weighing over 7.5 tons are limited to speeds of 50 mph on single-carriageway roads and 60 mph on dual carriageway roads. It is approximated that the speed restriction has lessened regular fatal accidents by 2 percent.
Road vision
Many fatal crashes between road users and trucks happen when a truck is turning right. This is because the truck driver's perception is restrained from seeing pedestrians and cyclists. Due to this the EU endorsed a code on rearview mirrors to upgrade the safety of pedestrians.
Further steps have been taken with the installation of full angle mirrors to a variety of automobiles to enhance the vision of the driver.
Breaking and stability
Loss of vehicle control due to sudden reduced speed, poor steering tendencies by drivers or abrupt evasive movements to avoid collision cause trucks and HGVs to plunge or drift. To fix this, the EU requires that a vehicle's movement be continuously supervised.
These include the rollover stability system, which fundamentally lowers engine capability and administers a halt once a potential imbalance is established.
Fatigue-related accidents
Fatigue and exhaustion by truck drivers is a serious concern that has brought about fatalities in commercial transits. The long distances covered by HGVs and often erratic shift arrangements, has negative impacts on the sleep and alertness of a driver.
Installation of digital tachographs as a rule by the EU has helped reduce fatigue-related accidents. The tachographs register all heavy-duty truck activities, including HGV weekly rest periods, driving hours and pace of the vehicle. It is essential that employees abide by HGV driving breaks for the safety of everyone on the road.
Want advice on how to better manage your fleet? Our fleet experts can give you a free consultation!
Ways to implement efficient HGV driving hours rules
1. Strategy Development
This includes a protocol for management to establish work-related road safety strategies at the local, state and national levels. Work program measures to select safer vehicles, driver training and education programs, and incentive programs have potential effectiveness.
2. Vehicle Performance and Maintenance
When selecting new vehicles, safety should be a top consideration of a fleet manager. The car is picked based on the most secure automobile within a justifiable budget. Safety performance ratings such as New Car Assessment Programmes administer safety rating blueprints showing the best and the worst-performing trucks.
3. Safer Fleet Management System
Investing in the right fleet management software and hardware can make a huge difference when it comes to keeping your drivers safe and following HGV driving rules. Tracking hours, driving speeds, and being able to check in on a vehicle's location
The density of a truck plays a significant role during an accident. This necessitates the need for additional crash protection features such as anti-whiplash protection, side airbag, and driver-side airbags in an automobile. Electronic stability control and daytime running lights are preferred features in a car.
HGV laws and trends going forward
Safety is becoming a bigger priority and it is likely the industry will continuously see stricter HGV laws on professional capability and road safety. Additionally the industry is changing from a male-dominated workforce to a more gender-neutral industry with more women working as HGV drivers. There is an expected increase in Advanced Driver Assistance Systems (ADAS), a truck safety technology that ensures safer driving experience and adherence to HGV Driving Hours. The number of electric vehicles is also expected to increase, boosting efficiency and safety.
The Importance of Driving Breaks, Fines & HGV Laws
Driving takes a lot of skills, concentration, and control that's difficult to maintain for hours on end, making frequent driving breaks critical to maintaining a high quality of safe and efficient driving.
Driving breaks ensures that drivers stay alert and avoid any associated risks of driving for too long without rest. These risks consist of running out of fuel, sleeping while driving, and reduced reaction times. Driving tired impairs judgement and slows reaction time. This can make one brake late or even miss a hazard and may explain why it's a risk for most rear-end crashes.
Fines for Breaking UK Commercial Driving Break Rules
While there isn't any specific offense for driving when tired, the DVSA traffic examiners now issue fines to deal with drivers who don't rest. Bus, coach, and truck drivers must have 45 hours of rest break at least every two weeks. Since November 1, 2017, DVSA has been giving fines of up to £300 to those who spend their entire break time in their vehicles in restricted areas. There were 6,300 driver's hours' fines issued to truck drivers by DVSA between April 2015 and March 2016.
The DVSA announced a new rule on March 5, 2018, that enforces new on-the-spot fines for drivers. Under the new recommendations, drivers can be fined up to £1500 in one stop if found to have up to five drivers' hours offences over the last 28 days, as noted on their tachograph. Drivers with more than five violations in the previous 28 days are prosecuted and may pay fines or be prohibited to drive.
A driver may face hefty fines and penalties if their failure to take driving breaks results in other offences. For instance, if they drive dangerously and end up killing someone, they may attract a penalty of up to 14 years imprisonment.
Tachograph Offences and Punishment
A tachograph is a manual or digital device that monitors and records driver activity – like speed, time, and distance. It is a legal requirement that tachographs are installed in every public and commercial vehicles that exceeds a weight of 3.5 tons or those that fall under the domestic EU, UK, or AETR laws. Today, tachographs gather data digitally, store it, and transfer it to a unique driver card to be assessed by the fleet manager.
When a driver fails to take a driving break, he or she can be sanctioned through the following ways:
Verbal warnings
Offence rectification notice
Prohibition
Prosecution
Referral to the traffic commissioner
Last Words on Driving Breaks & HGV Laws
Driving while tired increases the risk of an accident. That's why drivers need to take the recommended driving breaks to rest, unwind, and rejuvenate themselves.
Want to save money on your fleet?
clear
---
Vimcar Brochure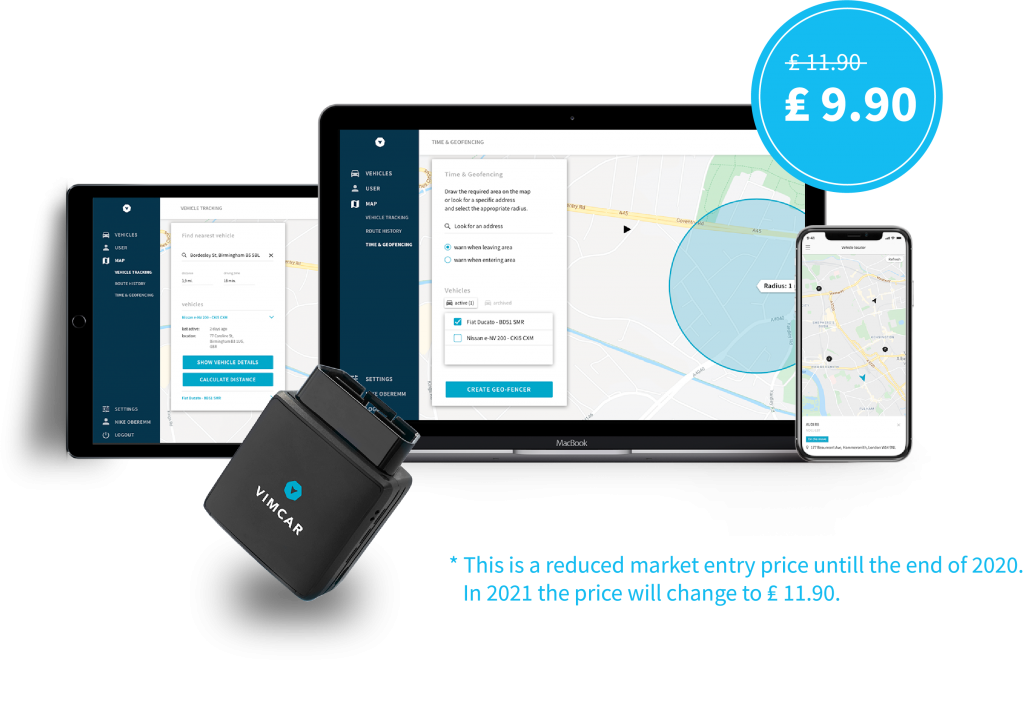 You may also like these other glossary terms: Driving Times, Company Car and Pool Car