Fleet managers have a lot on their plate when it comes to their fleet operations. This includes daily logistical planning, route planning and driver monitoring tasks. However, fleet managers must also ensure that fleet safety remains their highest priority. Luckily, evidence suggests that an effective fleet telematics policy holds the key to improving fleet safety.
A leading study published in September of 2020 notes and highlights the relationship between fleet telematics and fleet safety. It also addresses key risk indicators for drivers while out on the road as well as how organisations can use fleet telematics to reduce these.
This post condenses and summarises the key factors from the study that fleet managers should know.
Learn why a modern fleet telematics policy should be a priority.
The Most Important Fleet Driving Safety Indicators
The study concluded that driving behaviours themselves are a leading driving safety factor. In particular, the following driving behaviours were highlighted as being the biggest safety indicators:
Vehicle speed (compared to the respective road speed limit)
G-Force factors, namely harsh-braking and vehicle swerving from driving too fast
Hard acceleration and aggressive cornering
Fundamentally, the study notes that identifying and analysing these safety indicators are key to improving driver safety. These should be at the forefront of the fleet manager's safety strategy.
The study also points out that fleet managers should focus on a small number of safety indicators when it comes to communicating with and evaluating drivers.
This is because a high number of safety indicators can provide too much data to work with and prove confusing. It is also because these above-mentioned indicators were by far the biggest safety factors themselves.
Furthermore, the study also notes that implementing an effective fleet telematics policy is a great way to address such safety indicators.
Learn More: Reduce Fleet Driving Risk Factors
Organisations/Fleet Managers Should Assist Drivers
Fleet managers are also responsible for assisting their drivers in promoting safe driving habits. The study notes that inefficient driving on behalf of fleet drivers is unlikely to change by itself. Therefore, a fleet manager's proactive feedback- and data-based approach is key in affecting driver safety indicators.
Implementing fleet telematics that specifically focuses on driver behaviour is an efficient way to assist drivers. A good fleet telematics policy promotes safe driver behaviour through data to highlight room for improvement as well as driver behaviour progression. 
Efficient Fleet Telematics Policy: How To Use Technology For Safety
Good usage of fleet telematics is integral in keeping your fleet safe. Not only should fleet telematics be implemented, but the study also hints that some telematics are better than others. In short, fleet telematics require certain characteristics to be effective.
Technology Should Address Safety Indicators
As mentioned above, the study concluded that the key safety indicators for fleet drivers involve speeding, harsh braking, cornering and acceleration. Therefore, fleet telematics that track and address these issues, in particular, are desirable.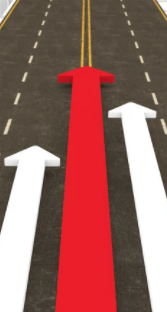 It Should Be Easy To Understand
Mass data presented in an overwhelming and illegible way can be counterproductive. Therefore, fleet managers should implement a fleet telematics policy that emphasises simplicity. This means that user interfaces should be clear, data should be coherent and easy to understand.
The Easier To Track Progress, The Better
Tracking driver performance progress is important. Telematics that present legible data trends and differences over a period of time indicate progress. It is this element of progress in terms of driver behaviour that keeps drivers safe.
Telematics Should Be Affordable And Easy To Implement
Fleet telematics themselves should be well-priced. The more that organisations can effectively acquire and implement safety technology, the more safety technology out on the road – and the less likelihood of collisions.
Moreover, the study points to plug-in and go solutions for SMEs as an effective means of acquiring fleet telematics. Not only is it a popular modern trend, they can also address key safety indicators as mentioned above.
At Vimcar, we keep a close eye on the wants and needs of fleet managers and drivers. We also stay on top of industry trends and identify ways in which fleet SMEs can improve their safety and operations.
This is where Vimcar's Driving Style Analysis (DSA) comes in. DSA was created specifically to uphold fleet safety, keep drivers safe as well as encourage more efficient driving.
Learn More: How DSA Can Save You Money
Vimcar's DSA records all essential vehicle data for each driver based on the vehicle's OBD interface. This includes vehicle speed, acceleration habits as well as braking behaviour. This allows fleet managers to easily identify which driver is engaging in which habits and exactly how often.
Moreover, the DSA tool easily collates all information together to assign each driver a simple score from 1-10. This is an example of how we emphasise simplicity within our practices and how you can have more efficient one-on-ones with your drivers.
This also allows you to easily track driver behaviour progress. You can do so by analysing your drivers' individual driving behaviour scores, rather than relying on guesswork and gut feeling.
Summary: Using Vimcar Is A Solid Telematics Policy
Vimcar is not only an industry leader in helping SMEs save money, improving their operations and becoming more efficient – it also keeps drivers safe. Alongside Driving Style Analysis (DSA), Vimcar offers specifically designed fleet solutions to improve every aspect of your fleet operations.
Fleet Geo by Vimcar is an industry-leading fleet tracking solution. Track your vehicles in real-time with pinpoint accuracy, identify which driver is driving which vehicle and create better routes with route planning.
Fleet Admin by Vimcar is the solution to simplify your administrative fleet needs. Do away with loose post-it notes and excel sheets to record your essential vehicle information. Vimcar's Fleet Admin has you covered with automated workflows and a centralised database.
---