A smart fleet is a group of vehicles that utilise cloud-based softwares to automate the fleet management process. Such a system simplifies the process of managing commercial vehicles by making them more connected, resulting in reduced overall costs and better fleet usage.
The automation of the fleet management process is made possible by using intuitive and effortless hardware and software applications that integrate Artificial Intelligence (AI), Internet of Things (IoT) and data analytics to create a smarter fleet.
This software encompasses various features that help fleet managers track their vehicles in real-time and monitor vehicle performance and driver activity. The data collected provides information fleet managers can use for planning and improving the efficiency of their vehicles.
A smart fleet system helps in effectively managing the vehicle expenses such as fuel and servicing costs. It incorporates commercial, technical, operational and budget requirements of a business and provides a way to manage all elements in one application.
Smart Fleet Features
Real time fleet monitoring capabilities such as GPS tracking
Documentation of fleet activities such as route history and speed/idling data
Theft prevention sensors
Geo and time fencing functionalities
Accurate ETA information
Driver activity and behaviour data
Roadside emergency assistance for drivers
Use of Cloud-based technology for Smart Fleet Management
A demand for smart fleet technology and management systems by transport businesses in the United Kingdom has led to a growth in the number of service providers. The challenge to business owners is getting a service provider who offers the best go-to tools appropriate for your needs.
Fleet optimisation has been achieved through the transfer of data over a network, reducing the chances of human error. Modern car fleet management systems permit businesses to overcome the shortcomings of traditional fleet management by reducing the amount of time spent on administrative tasks.
Get a Beginners Guide to Smart Fleets & Tracking:
Benefits
Better driver and vehicle safety
Using fleet management systems enables real-time monitoring and geofencing to improve vehicle safety. Features such as advanced driver assistance systems (ADAS) are one example of a smart fleet tool that provides security over the goods transported, as well as the driver.
Better decision making
With GPS tracking, telematics and advanced communication technology managers with a smart fleet can communicate with drivers and customers quickly and effortlessly. Automated fleet management helps businesses predict delivery times and improve driver turn-around.
Intelligent Transportation
The sharing of data between vehicles and fleet managers can tremendously improve safety, fuel consumption, maintenance costs, and overall vehicle and driver efficiency. With a feature like route history documentation fleet managers can identify problem routes or with the use of geofencing they can create designated parking spaces for vehicles returning to the premises.
Digitalising fleets can save businesses up to 20%. Discover how much you could save today, with our ROI Calculator.
Cost of a Smart Fleet
The cost of a fleet management system has a direct impact on the ROI for your business, so it is important to pay attention to that when choosing a provider. Costs such as hardware, installation and data usage charges can make all the difference as to whether a smart fleet is helping or hurting your business. It's critical however to think about the long term effects of such a system. The initial and running costs can be alarming, but many businesses around the globe are embracing a fleet management system because the cost is often worth it.
---
Vimcar Brochure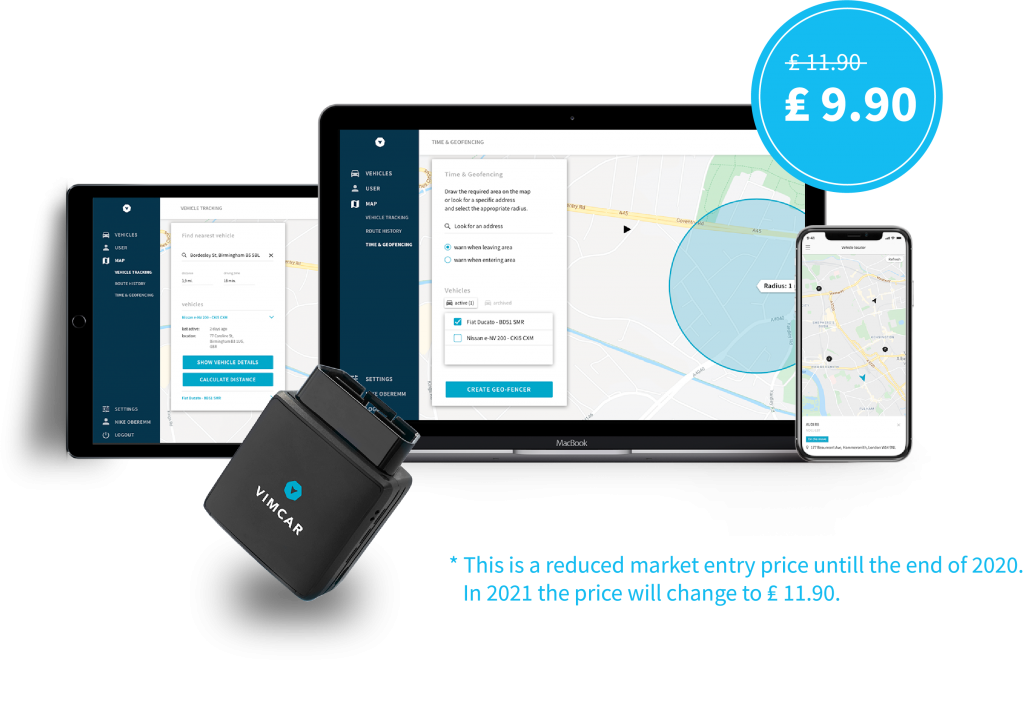 You may also like these other glossary terms: Fleet Tracking, Geofencing, Telematics