Fleet tracking saves businesses time, money and hassle. And now, businesses using Fleet Geo have the option of giving their fleet drivers more freedom over when their journeys are tracked.
The tracking of company cars – which are only used by one employee for personal and business use – can now be switched on for all business miles.
On the other hand, drivers of pool cars – which are used by multiple employees, mostly for business use – can be given the ability to switch off the fleet tracker for any personal miles.
Fleet Tracking for Company Cars
Employees with company cars often do not consent to the constant tracking of their company cars – especially if they are used mostly for personal use. That said, being able to track company cars during working hours is highly beneficial for both the employee and employer.
Giving company car drivers the option to switch tracking on only when it is needed increases the likeliness of them consenting to fleet tracking. Businesses can then take advantage of the solutions fleet tracking has to offer with even more of their fleet vehicles.
Transparency on company trips
For company car drivers, turning fleet tracking on for business miles offers the possibility to transparently document their assignments. It also provides drivers with automatic proof of attendance for customers: they can prove to a customer that they drove to and attended an appointment, even if customers don't show up. And then, once their business travel has ended, company car drivers can simply switch off tracking with Fleet Geo's Private Mode.
There are clear advantages for employers as well. For instance, employers tracking company car drivers during business hours can react more quickly to incoming orders or emergencies, sending out the nearest driver to a particular customer.
Private Mode opens up the potential for fleet managers and drivers to enjoy all the benefits of company car tracking – something that would have been, understandably, rejected by many company car drivers previously.
Fleet Tracking for Pool Vehicles
Some employers actively allow drivers to use their pool cars for personal reasons, whether it be on a lunch break or for a few hours after work. It's on these trips that tracking a pool vehicle is not absolutely necessary.
If an employer has approved the use of Private Mode, drivers can then activate/deactivate fleet tracking on private journeys, giving them added privacy.
How it Works:
The authorisation to deactivate fleet tracking for vehicles can be made by employers on the desktop version of Vimcar Fleet Geo. Drivers can then switch fleet tracking on and off in the Vimcar Logbook App.
Employers: granting drivers authorisation
If employers want to activate Private Mode for a particular driver and vehicle, they need to:
Open the desktop version of Vimcar Fleet Geo at fleet.vimcar.com.
They will then see your Vehicle Overview, automatically.
Ensure the field "Live Tracking and Route History" is activated.
In the table, you will find the column "Allow drivers to (de-)activate GPS tracking", activate this to allow drivers access to Private Mode to the corresponding vehicle.
In order for your drivers to be able to deactivate tracking for private journeys, they must follow the steps below (see section "Drivers: activating/deactivating tracking")
You can deactivate the Private Mode at any time by clicking on the box again.
N.B. In order to allow private mode, the vehicles and drivers must already be created and connected within your Vimcar account.
Read more: how fleet vehicle management systems can help working from home
Drivers: activating tracking
Drivers can activate/deactivate tracking in the Vimcar Logbook app, regardless of whether they drive a company car or a pool vehicle.
Please Note: Private Mode is only applicable to pool cars that have been authorised to have Private Mode by an employer. As an employer, if you do not want a pool car to have access to Private Mode settings (for pool cars that are not allowed for private usage, for instance), you can simply not authorise Private Mode for that pool car; simply do not tick the "Allow drivers to (de-)activate GPS tracking" on the Vehicle Overview table, as seen above.
For drivers of pool cars that do have access to Private Mode settings, you must:
Download the Vimcar Logbook App from the Apple App Store or Google Play. (Download the app even if you do not have a Vimcar Logbook; only Private Mode options will be visible on the app.)
The person in charge of the Vimcar account must give the driver access. The driver will then receive an automated email with their login credentials.
Click on "Tracking" in the menu.
Click on "Activate Vehicle Tracking" to switch it on.
Click the same button to turn tracking off, before a private journey begins.
It is important to switch tracking back on again after the private trip has been completed
Drivers: deactivating tracking
If the driver of the vehicle has not been permitted to turn tracking off then the following message will appear:
If you want to deactivate the vehicle tracking for a pool vehicle, there are two possibilities: The tracking can be deactivated for a certain period of time or permanently.
Vehicle tracking can be deactivated for a few hours or a self-selected period of time.
Once tracking has been turned off, the vehicle's location will no longer be visible to those with access to Vimcar Fleet Geo. the period of deactivation is displayed in the upper field. Vehicle tracking can be reactivated at any time. It is also possible to change the period of deactivation.
Please note: it is important to turn tracking back on as soon as a private journey has been completed. Only the driver who turned the tracking off in the first place can then turn it back on.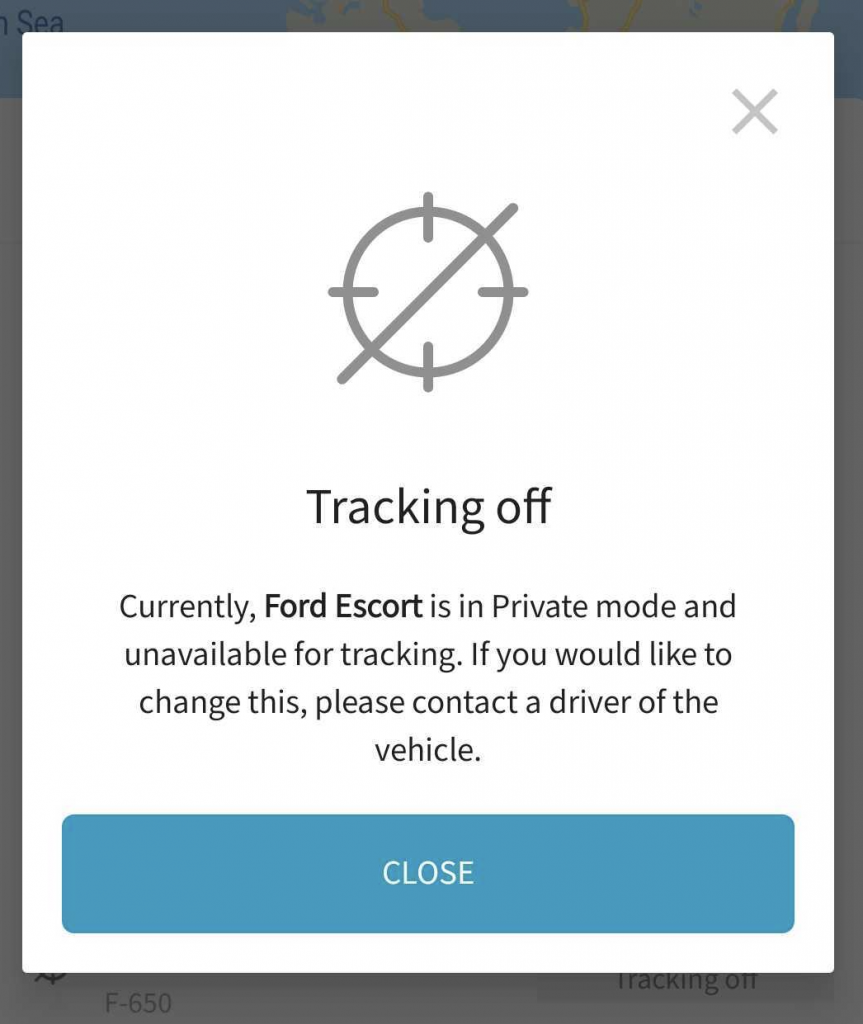 Drivers: activate vehicle tracking for Company Cars
If you want to activate vehicle tracking for a company car, you have to click on "temporarily activate". The tracking of company cars, unlike with pool cars. can only be activated for a preselected period of time.
The period for which vehicle tracking was activated appears in the upper field of the app. It's possible to change the tracking period at any time or to deactivate vehicle tracking.
---