Determining which fleet finance option is best for your business is dependent on a number of factors. These factors include your budget, needs, goals and number of required vehicles, among other things. Financing a fleet isn't as simple as saving up the money to buy a set number of vehicles upfront. 
This article will explain what fleet financing is, as well as the most common ways businesses can finance the lease or purchase of new vehicles.
What Is Fleet Financing?
Fleet financing is the way in which a business chooses to pay for its vehicles. Depending on a business's unique needs and goals, financing a fleet may involve buying vehicles outright, leasing them with the intent to buy them later on, or leasing them with the intent of handing the keys back after a set amount of time — just to name a few of the most common fleet finance options.
There is no "right" way to finance a fleet, as the best method for acquiring new vehicles will depend on the type of vehicles a business needs, what its goals are and so forth. 
Read More: What Is A "Fleet" Defined As?
The Beginners' Guide To Fleet Tracking Alongside Fleet Finance And Fleet Car Leasing
Your Fleet Finance Options 
When it comes to financing a fleet, you have quite a few options. Here are the most common fleet finance methods.
1. Outright purchase
Some businesses may opt to purchase a vehicle outright. This means the vehicle is yours forever and that you're responsible for maintenance, repairs, MOT checks and everything else that comes with being a vehicle owner. 
The major drawback to purchasing a vehicle outright is that it will depreciate in value over time. When the time comes to sell the vehicle and purchase a new one, your business may end up losing money in the long-run.
2. Business contract hire
A business contract hire is the long-term leasing of a vehicle for business purposes. Contract hires typically last two to four years and you pay a fixed monthly rate for the vehicle. The monthly rate includes maintenance and repair costs, road tax and more. Much of the administration work involved with maintaining a business vehicle is taken care of by the leasing company, which can save your business lots of time.
Note that with a business contract, the vehicle must be returned at the end of the contract period. There's no option to purchase the car once the contract expires.
3. Hire purchase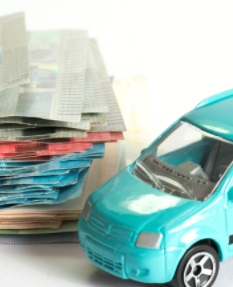 This fleet finance option is very similar to a business contract hire. However, with a business hire purchase, the vehicle is leased with the option to buy it at the end of the contract. This allows businesses to pay for vehicles over a number of months rather than having to pay for them outright. 
Note that with a business hire purchase, you will be responsible for the maintenance and repair costs of the vehicle.
4. Salary sacrifice
A salary sacrifice scheme allows employees to give up a portion of their gross salary in exchange for a fully maintained vehicle. Because they've sacrificed a portion of their salary, employees will save money on taxes. They won't have to pay national insurance (NI) for the amount of money they've given up, but they will have to pay benefit-in-kind (BIK) tax on the car.
Fleet Financing and Fleet Car Leasing
Leasing vehicles — whether through business contract hire or a similar financing scheme — is one of the most popular methods for financing a fleet. The benefits to leasing fleet vehicles are that your business is not responsible for any maintenance and repair costs, you don't have to worry about selling the vehicle at the end of the contract and you only have to pay a fixed monthly fee in exchange for driving the vehicle. 
Read More: Learn More About Business Contract Hire Vehicles
If you choose to acquire a fleet via a fleet car leasing scheme, you'll need to pass a credit check first. It's also recommended that you discuss any leasing contracts with your accountant or financial advisor before committing to a payment plan. 
Read More: What Are The Different Types of Fleet Cars?
Managing Your Fleet Vehicles
Once you've worked out which fleet finance option is best for your business — whether that be outright purchase, business contract hire, a salary sacrifice scheme or another form of leasing plan — you should consider how you're going to track your fleet's mileage and keep up with routine maintenance checks.
Fleet Geo makes tracking fleet vehicles easy, and it can be switched to Private Mode whenever a vehicle is being driven for personal use. For more information on how Vimcar can help oversee your fleet, get in touch with us today.
---
Vimcar Brochure