Every business needs to have a proper and up-to-date GPS tracking system for its fleet. However, businesses face plenty of difficulties with installing GPS trackers on vehicles. Even worse, many of these fleet tracking solutions are just too expensive, especially for SMEs.
The Vimcar GPS tracking software solves the aforementioned problems easily. This is why thousands of businesses consider Fleet Geo the best car tracker on the market.
Want more information on Vimcar as a company? jump to this section.
Here are five reasons your business should switch to the Fleet Geo tracking system:
1. Ease of Use
Fleet Geo remains the best GPS tracker for cars because it is easy to use. Unlike other trackers, Fleet Geo takes just minutes to install. Also, you can complete the installation without garaging the vehicle, saving you costly downtime.
You need not hire a professional to help install Fleet Geo trackers on fleets. By following installation instructions, your employees can install the tracking system with minimal difficulty.
The Fleet Geo software has won many accolades as one of the best GPS tracker for cars for its simplicity. Even the least tech-savvy business owner can adapt our fleet tracking software to suit their business needs.
Read more: Lack Of Technology Is Stunting The Service Industry
By saving you time on installation and use, Fleet Geo cuts the time you have to spend on managing your fleet. Businesses using Fleet Geo on average have reported that time spent on fleet management tasks decreased by up to 60 percent, making it one of the best car trackers on the market.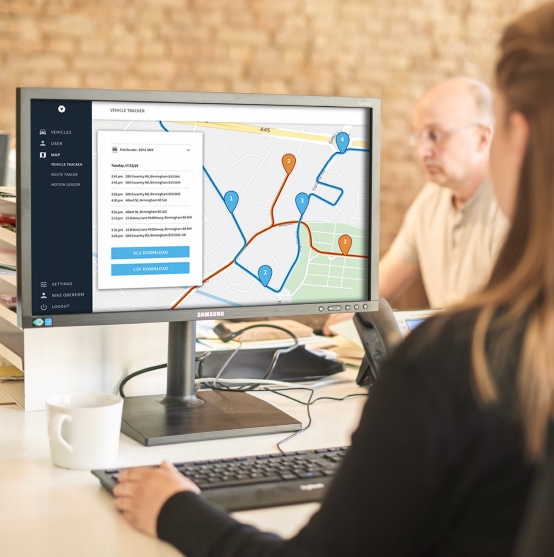 Get a Beginners Guide to the UK's Best GPS Car Tracking
2. Consumer-Centric Technology
At Vimcar, we pride ourselves on listening to opinions of customers on how to improve our products. This is why we often incorporate user feedback into routine improvements on the Fleet Geo tracking system to make it the best GPS tracker for cars.
For example, we collate user experiences with the Fleet Geo software and apply suggested changes during our quarterly updates. Thus, the Fleet Geo product can evolve to meet consumer demands and live up to its reputation as the best car tracker for efficient fleet management.
Some companies don't use consumer feedback to improve their product. Fleet Geo is different and considers feedback key to its vision of constantly improving its product — another reason Fleet Geo is rated the best car tracker for businesses.
Read more: 4 Reasons Why Fleet Managers Love Vimcar's Tracking System
Vimcar GPS Fleet Tracker PDF
3. Easy, Fast and Efficient Tracking
Fleet Geo provides fast and effective tracking for small businesses who might otherwise be unable to afford expensive alternatives. It does this by giving owners up-to-date tracking information.
Presently, Fleet Geo's software updates the GPS location at every 20-second interval. No other tracking system comes close in terms of efficiency and accuracy.
The benefit of Fleet Geo's efficiency is that it makes it easy to monitor fleet vehicles during journeys. This allows you to keep track of your drivers and provide help as soon you discover a problem.
Live GPS updates and real-time tracking allow you to know when employees use company vehicles such as pool cars for unofficial purposes. That will save your business thousands of pounds in fines you would pay if such behaviour continued unabated.
Read more: How To Deal With Drivers Breaking Pool Car Rules
4. Accessible Consumer Support
Although Fleet Geo is user-friendly, business owners may run into difficulties while using the software. As the creator of one of the industry's best GPS tracker for cars, Vimcar recognises this and provides owners with a team of dedicated experts they can seek help from in such situations.
Our after-sales support covers advice on how to use Fleet Geo to ease your business's fleet management. All this comes at no cost to the consumer — our support team is free to access every business day of the week.
Fleet Geo's pricing system is clearly defined and is fair to all parties involved. You know what you'll pay and what you'll get.
Vimcar doesn't charge customers for installation and cancellation. Neither do we charge for shipping and aftersales support. This decreases the amount spent on procuring and fitting your fleet with a tracking system by a significant percentage.
Digitalising fleets can save businesses up to 20%. Discover how much you could save today, with our ROI Calculator.
Businesses are often wary of investing in tech solutions because they have no idea if it will affect the bottom line positively. Fortunately, the Fleet Geo tracking system is notable for giving considerable returns on investment (ROI) to businesses.
For instance, research shows companies using Fleet Geo can save up to 15 percent in overhead costs. That allows you to spend the money on funding other vital parts of your business.
Who is Vimcar and how have we designed the market's best GPS car tracker?
Vimcar is an industry-leading software company, founded nearly a decade ago in Germany. Its absolute focus on delivering high-performing, straightforward fleet solutions quickly enabled it to become Germany's best GPS car tracker on the market.
After such huge success among European customers, Vimcar launched in the UK, where it now enjoys the title of one of the UK's best GPS car trackers.
Its easy-to-use interface means that any business is able to use it – no matter how digital or experienced they may be. That's why their GPS car tracker is best for small-to-medium sized businesses: setting up and installing takes minutes and is extremely straightforward.
A big reason why SMEs love Vimcar, is because (if they ever do have any issues) their customer support is just a phone call away!
Vimcar's customer success
Vimcar does not just offer customer support, but customer success.
What is the difference? Instead of passively answering customer queries, Vimcar actively reaches out to its customers to ensure they have no issues. Moreover, they are committed to providing support that will ensure users' business success.
For instance, our customer success team reaches out to users two weeks after they have received their GPS car trackers to offer them a free tour of our software. During this tour, they will give users advice on how they can improve their bottom line with certain GPS tracking solutions.
Plus, usually, installation is quick and simple enough, but if the user desires it, our team can instruct the customer over the phone on how to install the trackers.
That's one other reason why Vimcar's Fleet Geo is the UK's best GPS car tracker.
Want to read some of our reviews? No problem, just check out our Trustpilot profile:
The hardware: how the UK's best GPS car trackers look
Another excellent feature of the UK's best GPS car trackers is the hardware. Another one of Vimcar's key USPs is flexibility: every customer is able to choose the hardware that best suits their needs.
Customers have the option between:
The Vimcar Dongle
This plugs straight into your car's OBD interface. It's perfect for swapping and changing between different vehicles.
The Vimcar Box
This attaches to the car's battery and is a good option for those looking for something discreet and tamperproof.
Again, the UK's best GPS car tracker can be self-installed in minutes, for free.
For more information on our solutions, hardware and pricing, just download our product brochure!
Vimcar GPS Fleet Tracker PDF
Flexible price plans
Flexibility stretches from hardware, all the way to pricing. Vimcar customers are able to choose between multiple prices plans.
The price starts at £7.90. Customers can choose between a 24 month, 12 month or monthly contract.
What's more, Vimcar operates with no hidden costs and works to ensure your fleet can operate as smoothly as possible. That's why we always include:
All software, hardware and data usage
Mobile app
Hardware replacements (in case trackers are broken or lost)
30-day money-back guarantee
A dedicated Customer Success Manager
This unparalleled value for money and customer-centric approach to pricing is just yet another reason why Vimcar has become the UK's best GPS car tracker to date!
Conclusion
We have shown you why you need to buy Vimcar's Fleet Geo tracking system for your fleet. It's easy to use, delivers significant returns on investments, has no hidden charges, and evolves to satisfy consumer needs. What more do you need in a fleet tracking system?
Get in touch with any of our Vimcar representatives today to learn how Fleet Geo can contribute to your business's growth. Our team is available on all business days to answer questions you have concerning the Fleet Geo tracking system.
Read more: how fleet vehicle management systems can help working from home
---
Vimcar Brochure