A vehicle used by a single employee that is leased or owned by their employer is known as a company car. This is not to be confused with a pool car – a vehicle driven by various employees.
A company car can be used for business and personal reasons. The mileage of personal and business usage must be recorded separately (by the driver), for tax and legal reasons. Generally, the maintenance and business-related fuel expenses are paid for by the company. This makes company cars an attractive company benefit.
Business Advantages
From a business perspective there are numerous reasons for offering company cars to employees:
Recruitment: Company cars are an appealing perk, and may be a factor in deciding which employer to work for.
Convenience: Access to a company car allows employees greater flexibility. This can be especially helpful to those with children. A company car can ease the commute between the office and out-of-office business appointments.
Sustainability: By providing low-emission vehicles, employees can reduce their carbon footprint. Additionally this can help save money on fuel.
Reputation: Company cars as benefits can give a boost to staff morale and the image of the employer.
Economics: Providing a company car as part of a 'salary sacrifice scheme' can reduce employers' NIC (National Insurance Contribution) obligations.
Taxes for Businesses and Employees
Employees with a company car are required to pay a Benefit In Kind (BIK) tax. This tax is reserved for non-cash company benefits and perks. BIK tax rates are based on:
The age of the car
Fuel type
CO2 emissions
The engine size
The list price of the car
The employee's income bracket
Company cars are also subject to NIC payments by the business. However, the NIC on company cars can be less than the NIC required on a comparable salary payment. Additionally, employers can claim the VAT on fuel as a business expense and the cost of the car itself can be offset as a capital allowance.
Get A Free Company Car Policy Template
Another important aspect of taxation and company cars is fuel. Most employers reimburse the employee for any fuel used during business miles. Every quarter the government releases guidelines on how much companies should pay for fuel. These guidelines are broken down by business miles driven, the car's engine size and the type of fuel used. If a company wishes to reimburse fuel expenses for personal trips as well they are free to do so. That said, the employee will still need to pay BIK taxes on reimbursed personal miles.
Unfortunately there are issues of fraudulence when it comes to company car taxes. Sometimes employees will claim personal miles as business miles to avoid paying BIK taxes. If an employee with a company car does make such false mileage claims they will undergo serious HM Revenue and Customs penalties. Even if the difference is only a few miles.
Want advice on how to better manage your fleet? Our fleet experts can give you a free consultation!
Important Regulations
Both company vehicles, and the businesses that offer them, are subject to important regulations:
Checking driver competence
Employers must ensure that all drivers of company vehicles have a valid licence. This usually includes a 'declaration' signed by drivers, attesting they are qualified to drive the vehicle in question. The company should also provide handbooks setting out procedures for maintenance, usage, and 'fair wear and tear' to the vehicle.
Age-related issues
If the driver of a company car is under the age of 25, additional rules apply. Employers should request proof of age and include a clear statement of the relationship between the staff member and the company.
Data protection
If a company uses a fleet management software that employs a car tracking system, these trackers must follow GDPR data regulations. In most cases, trackers are not allowed in company cars, only in pool vehicles. This is to protect the privacy of the driver.
Company cars v.s. pool cars
It is important to understand the differences between pool cars and company cars. A pool car is a vehicle bought or leased by an organisation for the use of multiple employees. A pool car should not be used for significant private activity. It is important to note this distinction since both types of vehicles have their own unique set of tax and regulatory obligations.
Company cars are private vehicles for staff to take home. This gives company car drivers greater flexibility on how they use the vehicle. Pool cars are to be kept on-site and made available to employees when they need them. In other words, vehicles labeled as 'pool cars' should not be kept at an employee's house for an extended period of time.
This distinction is significant when regarding taxes. Pool cars are strictly for business use and are not a company benefit. Therefore, they incur less cost through NIC and no cost through BIK tax.
In fraudulent cases, businesses class company cars as pool cars, to avoid paying more tax. It's important not to make this mistake. HMRC regularly levies fines for incorrectly designated vehicles. These fines can amount to £3,000 per vehicle per year – plus extra penalties for 'potential lost revenue' to HMRC.
The right cars for your business
Company cars are a popular employee benefit. They enable staff to meet clients, attend key events, and reach their workplace with ease. In some cases, they can even be tax efficient.
It is important to correctly structure company vehicle schemes. This helps limit tax liabilities and provide a scope to track metrics like staff performance and fuel consumption. With Vehicle Excise Duty (an annual vehicle tax), UK businesses can keep tax incursions low by investing in low emission and electric/hybrid company cars.
It is vital for businesses to think about how their fleet affects this business. This includes accurately documenting their vehicles. Government regulations change and tax authorities are vigilant. Finding ways to record, store and analyse vehicle data is increasingly important for the future your business.
Read more: How To Create a Good Company Car Policy
---
Vimcar Brochure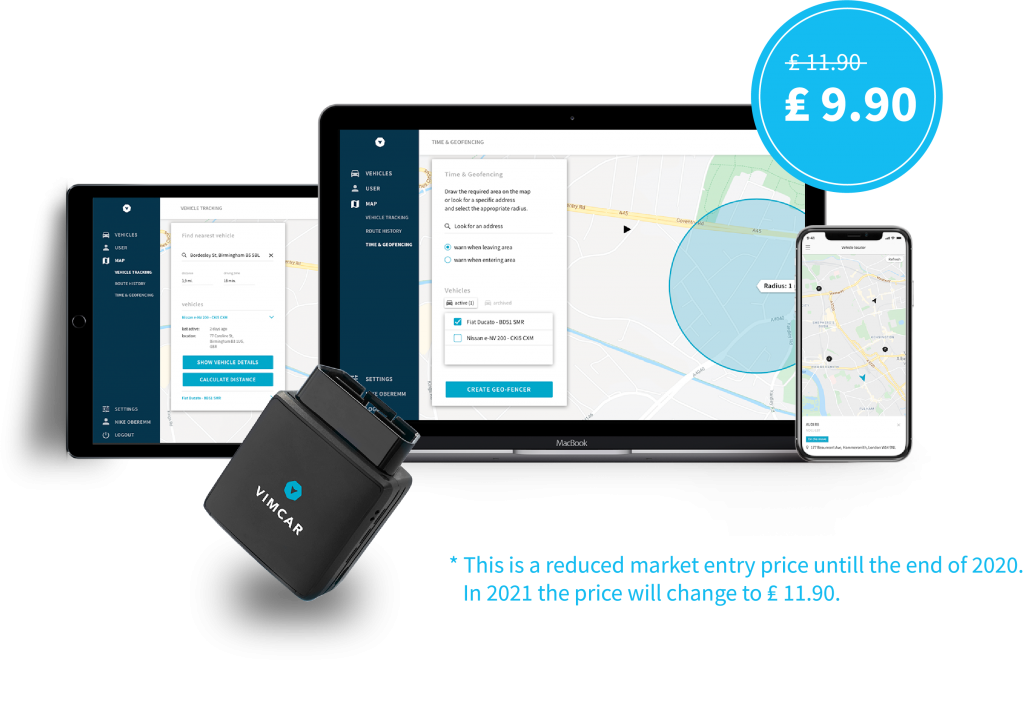 c
You may also like these other glossary terms: Pool Car, Driving Times and Fleet