If an organisation depends on certain vehicles for its daily operations, then it needs experienced transport management to oversee the acquisition and maintenance of those vehicles. Without a transport manager, so much time and money could be wasted trying to manage a fleet of vehicles. When hiring a transport manager, job experience is key. However, they are often required to have an undergraduate degree in a related field and/or be certified by a recognised professional body.
This article will explain what transport management is, the common transport manager duties and why investing in transport management software is crucial to running an efficient business.
For more information on fleet management software jump to this section.
What Is a Transport Manager?
By definition, a transport manager is someone who is responsible for managing all matters connected to transportation in an organisation. This includes vehicle procurement, operation and servicing, as well as driver supervision and training.
Common transport manager duties include:
Training drivers
Managing supervisors, drivers and administration staff
Organising vehicle replacements
Managing contracts
Creating work schedules
Ensuring an organisation abides by the relevant driving laws


Transport Management For Beginners | 2021 Guide:
What is transport management software
Transport management software is any software that helps a transport manager with their job. There are three main types of transport management software:
Fleet tracking: tracking the location of fleet vehicles and their drivers
Fleet administration software: digitally managing your fleet's key data
Driver behaviour analysis: identifying and scoring the efficiency of employee's driving
For more information, jump to "How can transport management software be useful".
Transport Management vs. Fleet Management
Transport management and fleet management are incredibly similar fields, and in some organisations, they may be considered one and the same. Both fleet and transport manager duties involve overseeing a fleet of vehicles. Common tasks include general maintenance checks, repairs, mileage supervision and route scheduling.
However, transport management places slightly more emphasis on the equipment aspect of a fleet. This includes vehicle tracking, scheduling repairs and fleet inspections. Fleet management, on the other hand, deals more with scheduling routes and optimising a fleet's movements, making it a more people-facing role.
Because transport management and fleet management are so similar, organisations may use the two terms interchangeably. Or, they may have both a fleet manager and a transport manager on their team who work together to oversee a fleet of vehicles.
How can transport management software be useful?
Fleet tracking
The solutions that transport management software can offer depends on the type of software you decide to purchase.
If you are interested in getting a clearer overview of your fleet's whereabouts with fleet tracking you have the opportunity to:
Prevent vehicles from being misused (e.g. through theft or drivers breaking company rules)
Give customers accurate delivery ETAs
Find the right driver – whether that be the driver closest to a customer's address or at the office, for instance
Provide proof of delivery or drop off, even when that customer was not at the given address
To find out if fleet tracking could be the right transport management software for you, feel free to download our brochure on fleet tracking for beginners: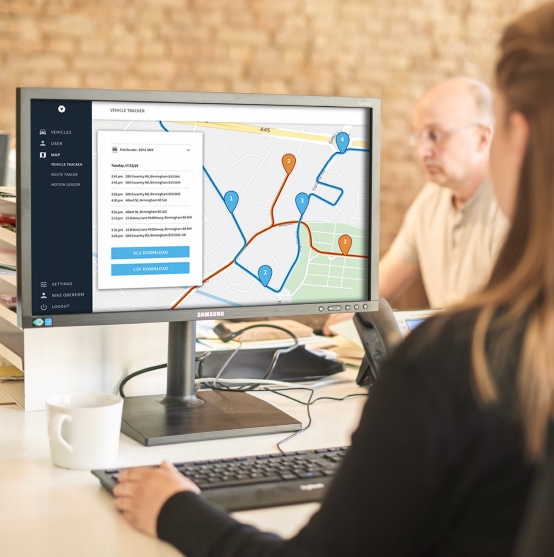 Get a Beginners Guide to Fleet Tracking
Fleet administration software
This particular transport management software is perfect for those looking to get rid of all those spreadsheets recording important fleet information.
Usually, when this data is kept on excel, costs are mismanaged, deadlines are missed and, crucially, time is wasted updating them.
Fleet administration software helps keep all of that information in one place and:
Identifies any cost outliers
Reminds you of important tasks or deadlines 
Automates certain workflows 
Driving Behaviour Analysis (DBA) as a transport management software
DBA is essential for transport managers that really want to save money. This particular transport management software keeps track of how your employees drive your company's vehicles.
In particular, it tracks how efficient their driving is, so you can reduce inefficiencies and costs related to:
Vehicle wear and tear
Accident rates
Insurance premiums
Fuel consumption
Wondering how DBA could help your company? Feel free to download Vimcar's DSA brochure to find out more!
Why Transport Managers Matter
Any organisation that depends on a fleet of vehicles to operate needs to hire a transport manager. A transport manager is responsible for all aspects of transportation within an organisation and plays a similar role to a fleet manager.
Transport managers looking to operate a cost-effective, efficient fleet should consider investing in digital transport management software like Fleet Geo. For more information on how Fleet Geo can ease a transport manager's duties, get in touch with Vimcar's customer service team today.
---