With a software to help with route planning, the vehicles in your fleet can be optimally utilised. Whether dealing with more than 20 trucks out on the road at once or a fleet of one – time spent on and off the road matters.
A route planning software properly documents all routes taken by all the vehicles in your fleet. With this data you can learn more about what is happening while your trucks are out on the road and start planning better routes.
Route Planning for Company Vehicles
When route planning, the starting point, destination and route of the truck, passenger transporter or courier vehicle should be defined. The task can be carried out using a navigation system, an online map or a digital route planner. For longer distances, rest periods and stops for refuelling must be taken into account.
Current traffic warnings provide an overview of where things could get tight and where delays can be expected, but keep in mind these aren't always accurate and traffic can be very unexpected. It can make sense to avoid road work, if at all possible. Doing so will not only save time, but it also increases the safety of the vehicle.
Things to consider:
Opening hours of the shops or businesses to be supplied
Compliance with driving bans on weekends and on public holidays
Clean Air Zones
Maximum clearance heights on bridges
Road work areas
Roundabouts or unconventional roads, especially for overhanging or particularly long vehicles
Rest areas for mandatory breaks that need to be observed by drivers
Get a Beginners Guide to Route Planning & Fleet Tracking:
Positive Effects of Route Planning
Companies can save time and transport costs with well thought-out route planning. Customers receive a punctual delivery that can be announced in advance. The transport space is used optimally, as empty runs and detours can be avoided to a large extent. With proper planning for all business trips, it may be possible to optimise vehicle usage and reduce the size of the fleet.
In addition, efficient route planning also means that compliance with driving and rest times can be better organised and integrated. By improving the route and journey for the driver, the stress of keeping to the timetable can be reduced and drivers can organise themselves better.
Digitalising fleets can save businesses up to 20%. Discover how much you could save today, with our ROI Calculator.
Fleet Management Softwares and Route Planning
Smaller companies can easily perform their fleet route planning manually. If the fleet consists of only a few vehicles, it is still easy to keep an overview. This is also possible if vehicles are often serving the same customer, such as deliveries for grocery stores or retail.
Route planning becomes more difficult if there are many vehicles and very different routes to be served. If the customers are constantly changing, the effort required to plan the routes quickly increases.
Those who want to best optimise their fleets use a fleet management software. With an easy-to-use fleet management software, the manual workload and guess work for route planning is largely reduced. With several practical features, a software offers fleet managers a considerable advantage when planning and evaluating vehicle trips. Functions such as a digital vehicle file, documented route history and information on stops and idil times give practical insight into how fleets are performing.
Vimcar's Fleet Geo tracker does all the above and more. Take control of your fleet to better serve your business. A fleet tracker can help optimise route planning, reduce vehicle misuse and with our easy self-install hardware, keeps your vehicles on the road and moving.
---
Vimcar Brochure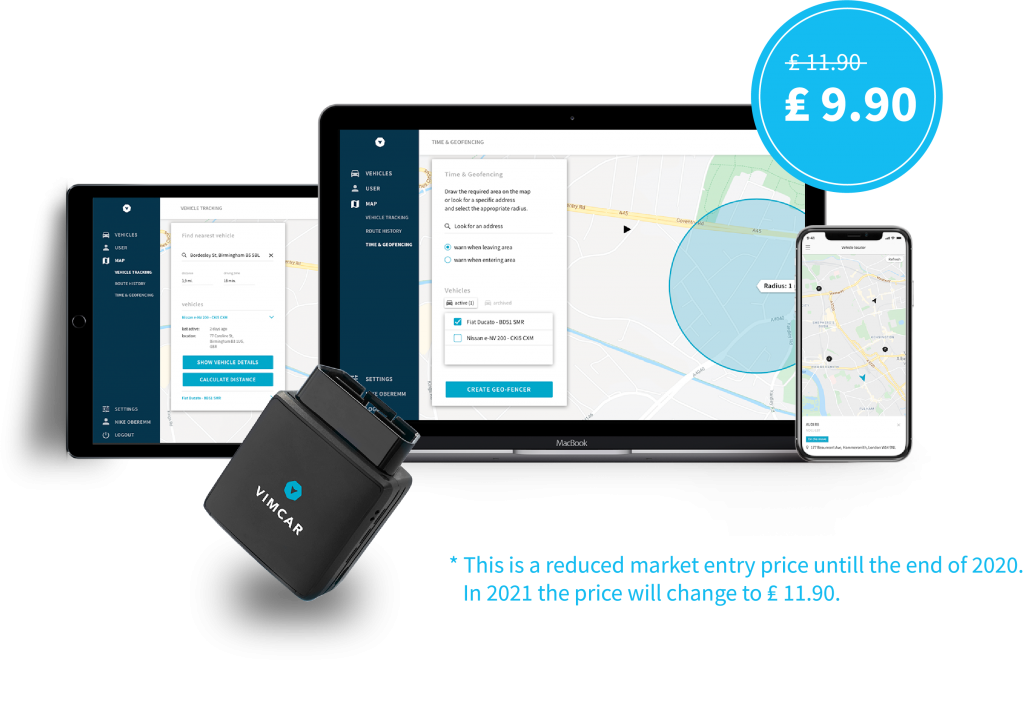 You may also like these other glossary terms: Fleet Tracking, Geofencing, Telematics